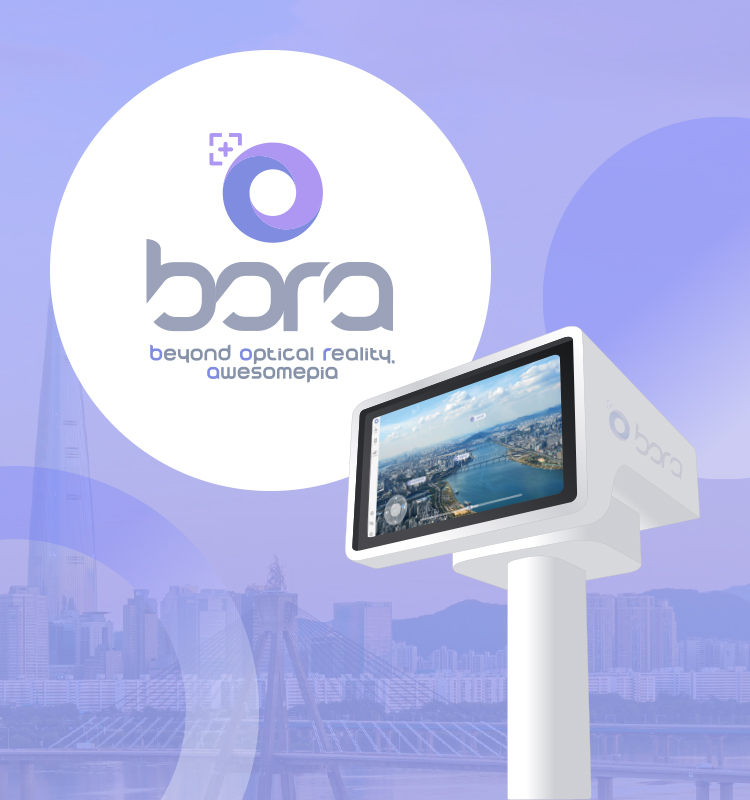 INTRODUCTION
XR TELESCOPE BORA
Enjoy the tour site information with digital tour guide
XR BORA provides you with XR live data of the scenery,
powered by Awesomepia's XR/AI technology,
dissolving the boundaries of virtual world and reality.
CONTENT MODES
LIVE MODE

Streaming Beautiful scenery in real-time

Camera zooms up to 60X
Scenery savable smartphones

CLEAR MODE

Clear scenery, regardless of the weather

Enjoy the scenery, any time of the year
Replaying the scenery footage from any time of the year

XR MODE

Added 3d configuration with a wide range of information

Providing you with a variety of tour infos around the spot
Captures POI (points of interest) with deep learning-based image tracking technology Multi-language digital audio guide
FEATURES
Propriety hardware and software technology

Obtaining zoomed-in, high-quality images with industrial camera
Utilizing high-brightness, waterproof and dustproof monitor
Flexible development and application with propriety technology

ISO 9001 certified, with multiple patents

Stitching footages from multiple cameras into one widescreen video Utilizing high-brightness, waterproof and dustproof monitor
Making panorama videos from multiple sources using image stitching technology

BORA hardware + Software

Integrated SDK (video control, pan-tilt, focus control, CMS)
Error prevention using SaaS detection system (log analysis, report)
Customizable contents, accepting both Unreal/Unity engines
EXPECTED EFFECTS
Revitalize your local economy

Extend your customers to Millenials, Gen-Z, group tourists(couples, families), and extend their stay duration with XR BORA.

Edutainment Value

Voiced by digital commentators, XR BORA can deliver educational information on cultural relics, flora/fauna around the installation sites.

Branding through content development

With XR BORA, you can promote your regional brand contents through further development of XR contents. Existing local and brand promommotion materials are compatible with XR BORA

*additional cost may apply*
PLATFORM LINKAGE
Offline BORA installation

Live data collection

Provided in mobile environment
Live background + Virtual space

MetaLive, a tourism metaverse platform linked with XR BORA for maximum immersion

You can enjoy more immersive tour on virtual tourist spot with 360 video or live footage
SPECIFICATIONS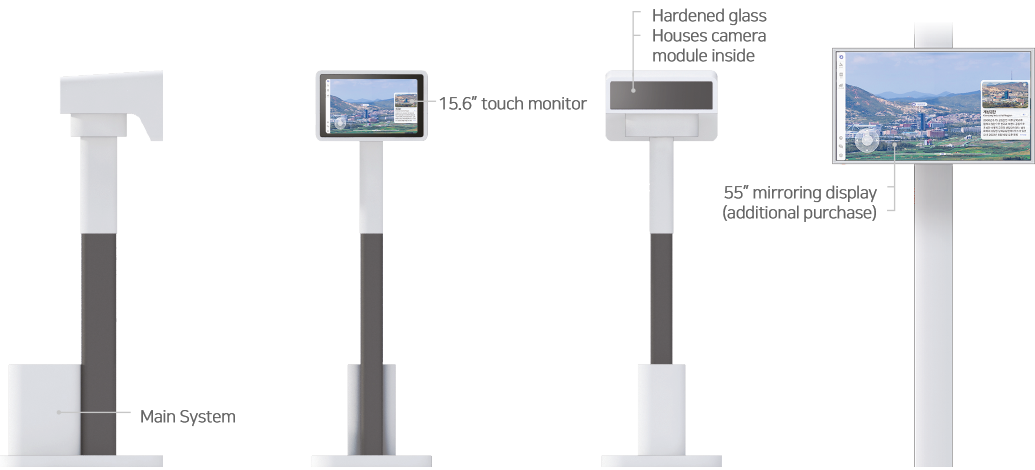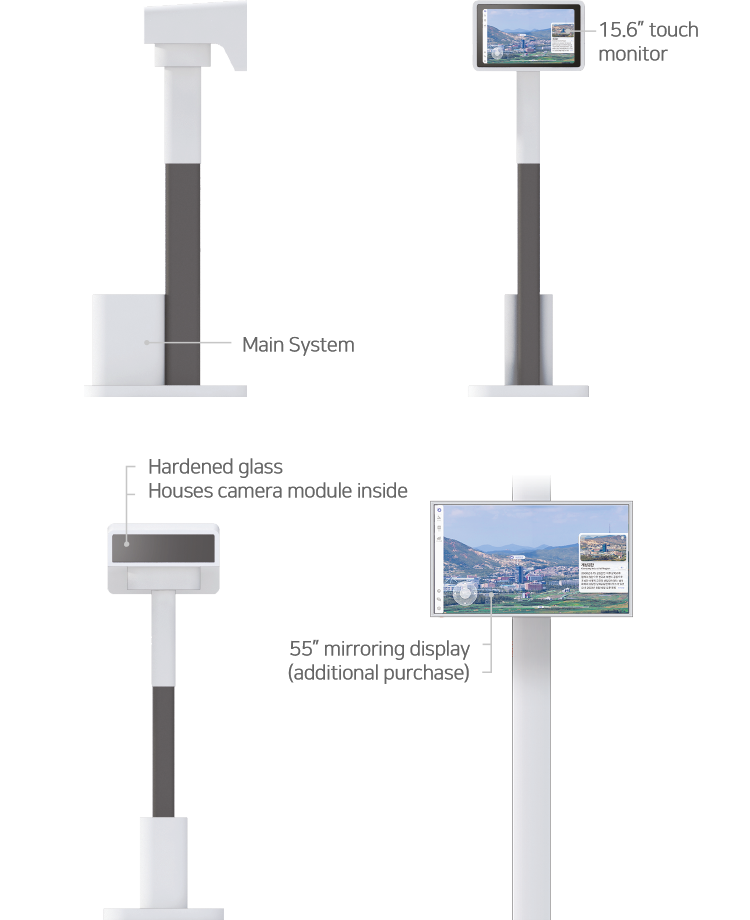 Sortation
Specs
Sortation
Specs
Sortation
Specs
Zoom
Max. 100X
Screen Size
15.6"
Rated Voltage
220V/60HZ
Camera
2048P
@30FPS
Resolution
1920 X 1080
(FHD)
Power Consumption
Max. 250W
Pan range
Max. 120"
Brightness
1200nit
Standby Power
30W
Tilt range
Max. 10"
Touch
Capacitive 10-point multi touch
Temperature Control Stystem
Applied
(Keeps 20ºC~40ºC)
INSTALLATION CASE
Co-distribution with Lotte subsidiary <Daehong Communications> , <M.Hub>
Secure diverse distribution network , stability of business
Installed

2020.12

Paju Dora Observatory (1st model)

2022.07

HighOne Resort, Gangwon-do

2022.09

Paju Dora Observatory (2nd model)

2022.10

Odusan Unification Observatory

2022.11

Café the Sea, Jeju

2022.12

Namsangol Hanok Village, Seoul

2023.01

Lotte World Tower

Scheduled

Domestic :

Jaemiro(Myeong-dong, Seoul), Aegibong Peace Ecopark (Gimpo, Gyeonggi-do), Seongsan Sunrise Peak (Jeju), Apsan Observatory(Daegu)

International :

Currently discussing the issue with Singapore, Mongolia, Vietna, Italy, etc.

Dorasan
Observatory


Lotte World
Tower


Seongsan
Ilchulbong


Jeju
Cafe the Sea


Namsangol
Hanok Village


High1
Resort


Odusan
Observatory