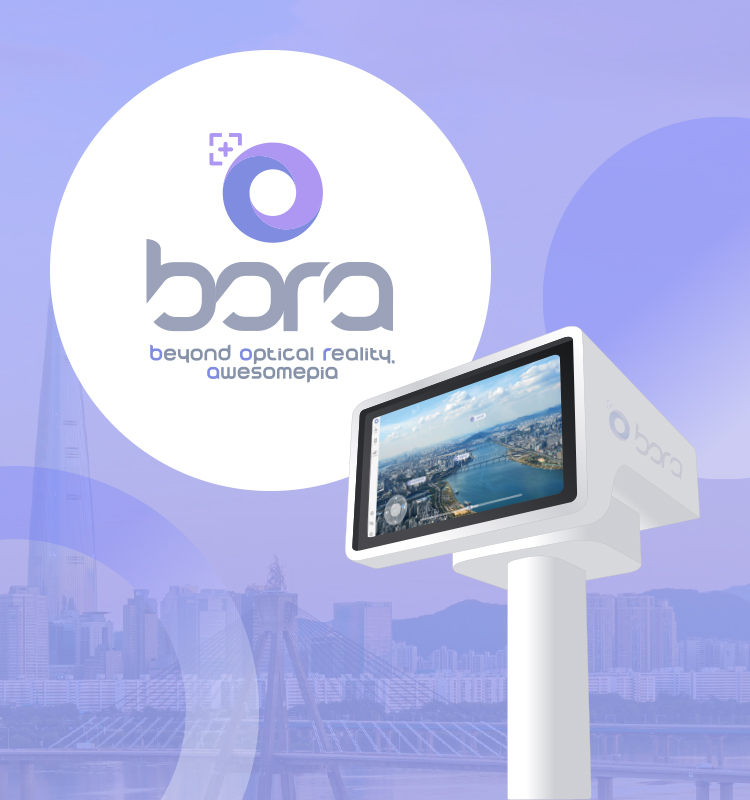 INTRODUCTION
XR TELESCOPE BORA
Enjoy the scenery of the tourist attractions with a digital guide
XR Telescope BORA is a digital telescope that combines reality and
virtual reality through XR and AI technologies in real-time images.
It provides a new tourism experience beyond the existing telescope.
CONTENT MODES
LIVE MODE

Watch beautiful scenery clearly in real-time Enjoy real-time views of tourist attractions with up to 60x zoom-in.

Scan the QR code on the screen and the view you are watching will be sent to your smartphone.

CLEAR MODE

Cloudy days? No problem.
You will have the best-ever clear view.

Enjoy the scenery of the season and weather at your choice Whatever the weather conditions of the day, you get the best scenery.

XR MODE

Information on major tourist attractions as XR content!

Experience helpful information such as major tourist attractions, history, and ecosystems through various contents using XR and AI technology.
FEATURES
Possession of hardware and software technology

High reliability proven through existing installation cases High-magnification, high-quality scenery viewing with field-customized lens selection

Completed ISO 9001 certification and has a number of related patents

Converts images taken through multiple cameras into panoramic images and provides streaming services to clients. Panorama images were acquired using image stitching.

Live scenery + virtual space

Realistic experience connected to the XR telescope Bora Virtual tourism metaverse platform meta live You can enjoy a more realistic virtual tour by combining the vivid scene of a real tourist attraction with a virtual space with 360 or real-time video.
EXPECTED EFFECTS
Revitalization of the Local Economy

The MZ generation seeking a new experience through the XR Telescope Bora, the inflow of tourists from organizations, families, and couples who want to experience field trips, revitalize the local economy, and increase tourists and stay time.

The educational aspect

Plays the role of field trips by delivering XR educational information content on cultural relics and animals/plants around tourist destinations through voice guidance from digital commentators.

Activation through content development

Expands promotional and experience content by further developing XR contents of regions and brands, and to collaborating with BORA on XR content owned by regions and brands.

*Additional development costs are incurred*
PLATFORM LINKAGE
Install BORA
at site

Collect Live Data

Mobile Device
Environment
Live Scenary+Virtual Space

MetaLive is a virtual tourism metaverse platform connected to XR Telescope Bora.

Enjoy a more realistic virtual tour by combining the vivid scene of a real tourist destination with a virtual space through 360 or real-time video.
SPECIFICATIONS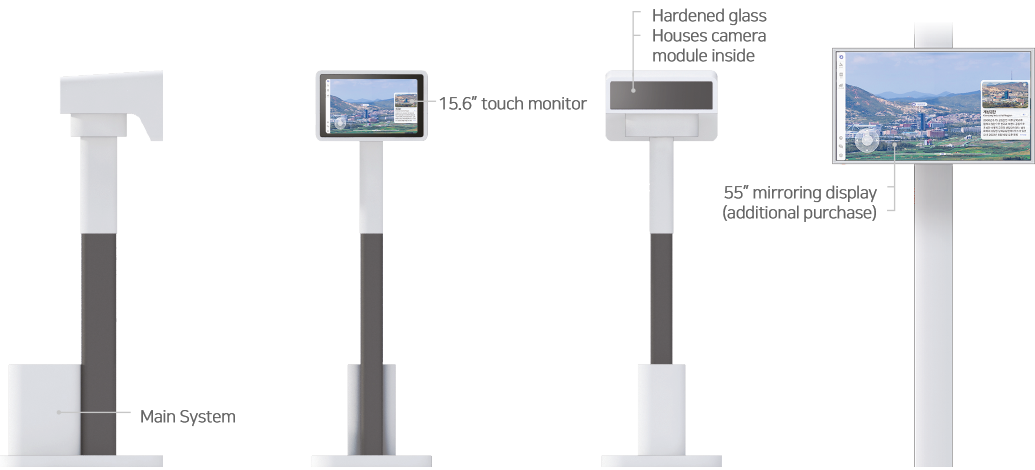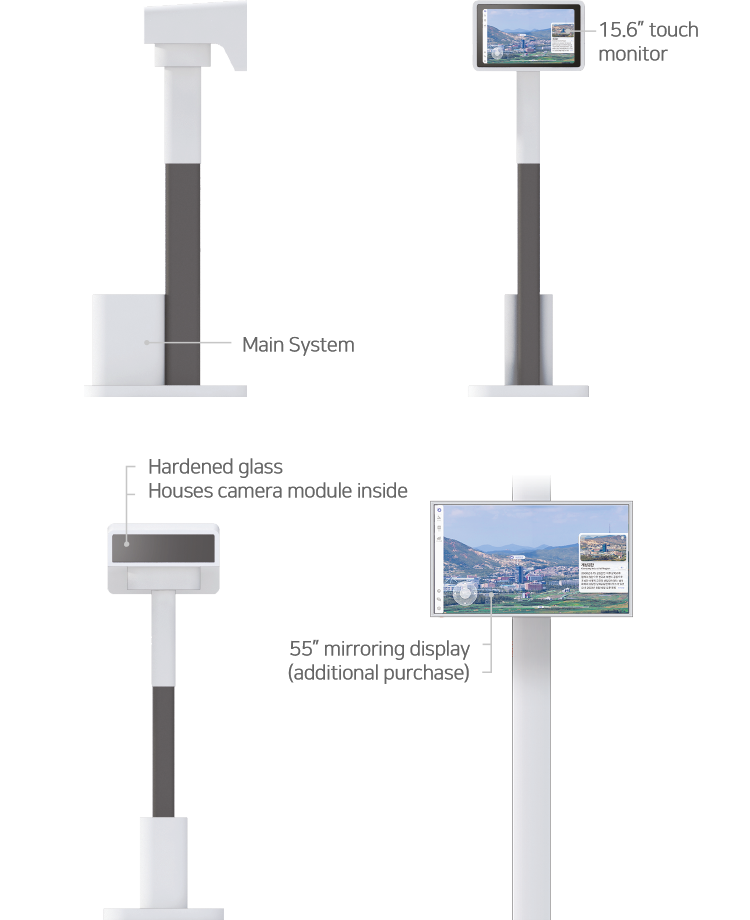 Sortation
Specs
Sortation
Specs
Sortation
Specs
Magnification
60x ~ 100x
(Approx.10km+)
Display
15.6"
Rated Voltage
220V/60HZ
Image Capture
2048P
@30FPS
Resolution
1920 X 1080
(FHD)
IP rating
IP44
Pan range
120"
Brightness
1200nit
Material
SUSor Steel
TILT coverage
50"
Panel point
Electrostatic, 10 point
ControlledTemp.Range
20°c- 40°c
INSTALLATION CASE
Joint distribution with Lotte Group affiliates
<Daehong Communications> , <MHub>
Secured various distribution network. Stable sales guaranteed.
BORA
Installed Sites

Dec.20

Dora Observation Tower, 1st model

Jul.22

Hi-One Resort, Junsun, Kangwon-Do

Sep.22

Dora Observation Tower, 2nd model installed

Oct.22

Odu-San Tongil Observation Tower, National Institute of Unification

Dec.22

Namsan-Gol Hanok-Maeu, Seoul

Jan.23

EBC, Lotte World Tower

May 23

Apsan Observatory, Daegu City

Sep.23

Gimpo Aegibong Peace Ecological Park, Animation Center (Animation Picnic, House of Comics) Installation

Oct.23

Myeong-Dong Jaemirang, Seoul City

Nov.23

Yeoncheon Typhoon Observatory

Dorasan
Observatory


Lotte World
Tower


Daegu
Apsan Observatory


Gimpo
Aegibong


Namsangol
Hanok Village


High1
Resort


Odusan
Observatory